My Firefox Scripts
I've recently discovered lots of fun things you can do with Firefox, using extensions and the powerful Greasemonkey add-on. Here are two of my recent developments, both of which improve the Google Analytics reporting interface.
***** Google Analytics Full Screen Reports *****

With the rise of smaller netbooks, sometimes it's helpful to maximize the reporting view in GA.  With this easy add-on, you can quickly expand the reporting view by hiding the left-hand navigation.
Install the greasemonkey script (greasemonkey required)
***** Google Analytics Advanced Date Selection *****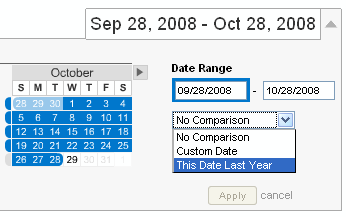 If you use GA as much as I do, you know the difficulty of comparing year-over-year dates. The default calendar requires over 12 clicks to make this selection. With this script, an option is added for one click access to year-over-year reports.
Install using this link (greasemonkey required)
I welcome your comments on either extension below…thanks!